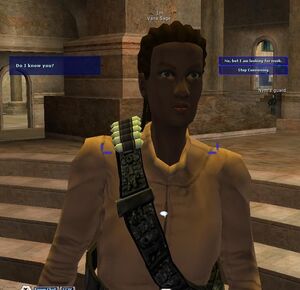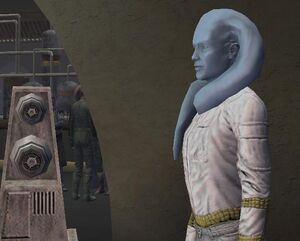 Location: /waypoint lok 475 4773
Vana Sage, Nym's Head of Security, is the first NPC to talk to in order to commence the questline for the Nym's Themepark. Doing the quests from her will open up more NPC Quest options with the surrounding Henchmen.
Vana will tell you about a ship that nose-dived onto Lok recently. The ship is of interest because it took off from an Imperial mining facility. Vana hopes to get hold of a droid that had once belonged to General Otto. You are sent to a contact who has all the info on the Sulphur Lake Pirates, whose base is located near to the crash site.
Speak With Choster
Edit
Quest Category: Nym's Theme Park
Level: 58
Description: Find Choster and ask him about the Sulphur Lake Pirates
Find Choster in the Stronghold Cantina. Choster is a blue skinned Twi'lek and can be found inside the Cantina at (/way 519 5058). Conversing with him will give you some background information on the Sulpur Lake Pirates. Choster used to work for them and such knows their security systems very well - in fact he's programmed a "back door" into their system and will gladly give you clues as to how to utilise it. Return to Nym's Stronghold and tell Vana Sage what Choster told you.
Reward:
308 (Quest Experience)
Money: 2000 credits
Now that you have been cleared by Vana Sage, the surrounding NPC's will offer you work as well. It is strongly advised that you take their jobs, to shorten down the traveling time considerably.
You can also commence with your Weed Whacking adventures by speaking to Ran Machado outside of Nym's Stronghold.
Following Quest: Retrieve the Droid Disk >>
Community content is available under
CC-BY-SA
unless otherwise noted.