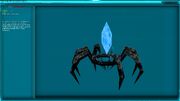 Perfect for a trick on someone that is stingy with celebrating the Galactic Moon Festival.
About
[
]
This item was purchaseable during the Galactic Moon Festival event, for 200 Galactic Moon Coins.
This item was purchased as an upgrade to the Mark I projector. It is uniquie, no-trade item that will disintegrate after the festival ends.
The model has a higher chance to scare someone than the Trick or Treat Projector I, and for a small fee can be upgraded to the Mark III projector.