<< Previous Quest: Retrieve the research data and IMGGCUs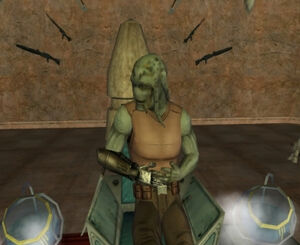 Quest Category: Nym's Theme Park
Level: 64
Description: Speak with Nym to see if he has more work for you. Nym can be behind his desk at the center of Nym's Stronghold at (/way 475 4766).
Reward:
341 (Quest Experience)
Money: 500 credits
Note: Not Repeatable. Non-Combat.
Following Quest: Beat Opponents in Arena >>
Community content is available under
CC-BY-SA
unless otherwise noted.