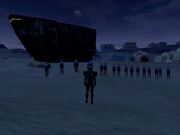 (DUE TO A RECENT GAME UPDATE EVENT PROMOTORS HAVE BEEN REPLACED WITH STORYTELLER VENDORS ALTHOUGH THEY RETAIN THEIR EVENT PROMOTER TITLE!!)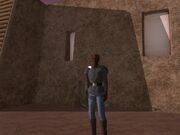 New items that can be rented for a fee and used to develop player events and enrich role playing. Players must visit an Event Promoter in a Hotel in order to receive these items. PEP's are rentals only, and thus have a limited life span. When their rental period is up, they will disappear. All Player Event Perks have a rental period of eight hours, with the exception of the Lottery Droid.
Players may only have five PEP's at one time—including those in inventory and those generated. In order to generate most player event perks, you cannot be in a static city or close to a structure or another player event perk. A few exceptions: the lottery droid can be placed in a player city if you have zoning rights, and a Jukebox must be placed inside a structure for which you have permission.
Event Promoter Locations
Edit
Locations that have been confirmed. Please add more when you find them! Not all hotels have an event promoter.
PEP Categories
Edit
There are four categories of player event perks. Each has specific uses for player events and/or roleplaying. Items can be placed at any location where a camp could be placed, as well as in a player city if the player has zoning rights.
Community content is available under
CC-BY-SA
unless otherwise noted.