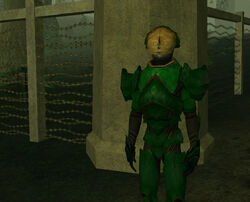 A representative for Omogg, a Drackmarian Warlord, greets brave explorers at the
Dathomir Trade Outpost
to warn them about the mysteries of the planet and the dangerous battle between the witch clans.
/way dathomir 552 3074 Omogg's Representative;

He kicks off the Witches of Dathomir Prologue, leading to a completely revamped Nightsister and Singing Mountain Clan Themepark.
Community content is available under
CC-BY-SA
unless otherwise noted.