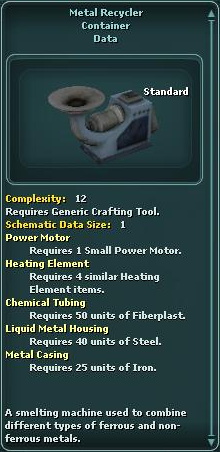 Metal Recycler is a type of recycler.
Schematic info
Edit
Metal Recycler
Schematic information
Profession
Obtained
Skill

Engineering Fundamentals II (Level 4)

Item type
Complexity

12

Crafting tool
Crafting station

Optional

Notes
Assembly information
Resources
Components
Manufactory information
Operation
Edit
Take for example 100 stack of steel, of any kind, planet, stats, & etc.
Drop the steel in/on the Recycler "Smelting Machine" while it's in your inventory, whatever you drop in/on it turns into Smelted, with 200 to all stats, and will pop back in your inventory. So now you have a 100 stack of Smelted, and in this case, Smelted Steel.
This is helpful for grinding, or for items that don't require experimentation.
It gets rid of a lot the extra resources you can't use, and makes them into stacks you can use.
You have to target on Smelting Machine, while it is in inventory & click on Choose Recycle Type now you click on either Ferrous or Non-Ferrous then drop your resource on it, of the appropriate type.
Since Patch 27 recycler components drop from any npc
External links
Edit

SWGCraft
Community content is available under
CC-BY-SA
unless otherwise noted.