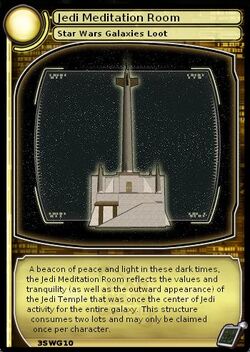 ‎
TCG Card Number:
3SWG10
Description: A beacon of peace and light in these dark times, the Jedi Meditation reflects the values and tranquility (as well as the outward appearance) of the Jedi Temple that was once the center of Jedi activity for the entire galaxy. This structure consumes two lots and may only be claimed once per character.
When this TCG loot card is redeemed for an in-game structure, you receive this Jedi Meditation Temple to place in your galaxy.
Features
Edit
Lots required to place: 2
Base maintenance cost: 8/hr
Base storage capacity: 250
Profession/Expertise required to place: None
Player City Structure only: No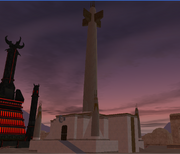 Community content is available under
CC-BY-SA
unless otherwise noted.