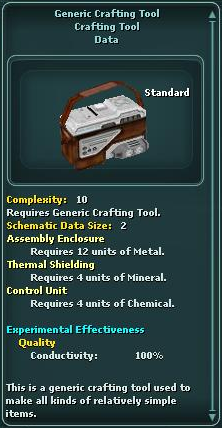 Generic Crafting Tool is a type of crafting tool used to craft a variety of simple general items. It is used for schematics with a complexity no higher than 15. Schematics with a complexity higher than 15 require a specialized crafting tool. Schematics with a complexity higher than 20 also require a crafting station or droid with a crafting station module.
Generic Crafting Tool
Schematic information
Profession
Obtained

Level 1

Skill
Item type

Crafting Tool

Complexity

10

Crafting tool

Generic Crafting Tool

Crafting station

Optional

Experience

40

Notes

Max Tool Effectiveness: 15.00

Assembly information
Resources
Experimentation

Experimental Effectiveness

Manufactory information
External links
Edit

SWGCraft
Community content is available under
CC-BY-SA
unless otherwise noted.