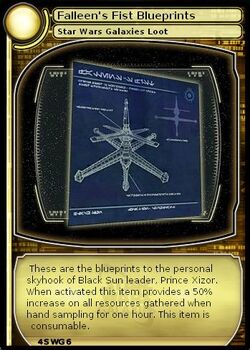 ‎
TCG Card Number:
4SWG6
Description: These are the blueprints to the personal skyhook of Black Sun leader, Prince Xizor. When activated this item provides a 50% increase on all resources gathered when hand sampling for one hour. This item is consumable.
When this TCG loot card is redeemed you receive a consumable set of blueprints that increase the amount retrieved while hand sampling resources. This item can also be used as a poster.
Community content is available under
CC-BY-SA
unless otherwise noted.