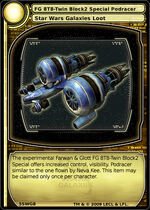 TCG Card Number: 5SWG8
The experimental Farwan & Glott FG 8T8-Twin Block2 Special offers increased control, visibility. This podracer is similar to the one flown by Neva Kee. This item may be claimed only once per character.
The Loot Card is Tradeable if found in a purchased pack
The Loot Card is No Trade if found in a free pack
The claimed deed is No Trade
The vehicle generated in datapad is No Trade
Hit Points: 15.000
Carries one person
Cannot be customized with a Vehicle Customization Kit
If disabled, can be restored at a Garage
How to Obtain
Edit
Star Wars Lore
Edit
Community content is available under
CC-BY-SA
unless otherwise noted.