thumb|250px|right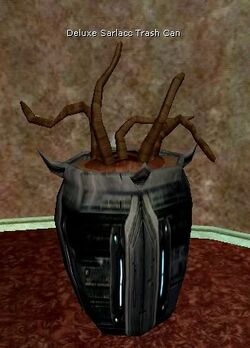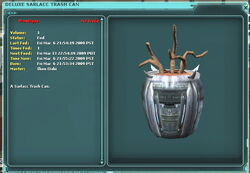 Who Gets It
The deluxe reward is intended as a reward for continuing subscribers, as opposed to people who subscribe after a re-activation trial. It was awarded on accounts that have subscribed continuously since the preceding month, specifically January 13 - February 15.
Accounts that have been newly created within the past month were not receiving the reward at this time. It is uncertain whether or not these accounts will become eligible for the deluxe reward at a later date.
The reward is No-Trade, and only awarded to ONE CHARACTER on a given account, so think about which character you want to receive it before claiming it. If you claimed the reward on the wrong character, you will have an opportunity to give it to another character instead.
The reward appears in the veteran reward popup window. Type /claimVet to check and see if yours has been delivered to your account.
How It Works
Feed your Sarlacc loot items four consecutive weeks. At the end of the four week period, a collection item can be retrieved from it.
One per account? What should I do if I claimed it on the wrong character?
Yes, these awards are strictly one per account, including for the test center servers. The developers have come up with a way to fix the problem, if you accidentally claimed the reward on the wrong character. You consume the trash can, so that it may be reclaimed on another character on your account. There is time limitations on how often you can consume it to get your /claim back.
What Should I Feed It?
Good question! Elias of the SWG Community Relations team has hinted that what you feed your Sarlacc helps determine what it will give back to you.
Loot items that can be fed to your Sarlacc include junk loot, collection items, and other kinds of loot. Be very careful when selecting which item from your inventory your hungry Sarlacc receives!
What's Wrong With This Thing? I Can't Feed It
You have to drop the item in your house. The Sarlacc won't eat while being held in your inventory, or if placed in a ship in space. Also make sure to have acceptable food in your inventory. (See above.)
What's The Purpose?
Besides fun? Hopefully if you feed your Sarlacc well, you will receive something valuable in good turn. For example, that little Strange Sith Holocron 4/5 (Waist Pack) collection item so many Jedi have been hunting for.
Will The Collection Item Be "No Trade"?
No. As with other items that award collection pieces, the collection items granted from the Sarlacc trash cans will be tradeable.
See also
[
]