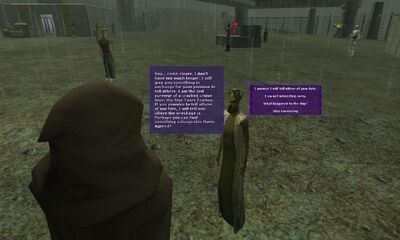 "You... come closer. I don't have too much longer...."
Game Info
Edit
Level: none
Rewards: location Badge, "has found a wrecked starship on Dathomir"
At the Trade Outpost on Dathomir is a lone commoner who has a tale to tell. If you speak with them (610 3084) they will tell you the following story:
"You... come closer. I don't have too much longer. I will give you something in exchange for your promise to tell others.
I am the last survivor of a crashed cruise liner, the Star Tours Tzarina. If you promise to tell others of our fate, I will tell you where the wreckage is. Perhaps you can find something salvagable there. Agreed?"
If you agree, the survivor tells you the story of the crash and gives you the location (5663 1950) of a downed civilian transport quite a ways off to the east. If you travel to the site, you get the message "You have arrived at the location you were sent to" when you come close, and the waypoint vanishes.

Around the wreckage is a tribe of Purboles (CL82-84), and among the wreckage you find the following:
MagSeal Container (5701 1932)
Damaged Metal Drum (5693 1934)
Loose Debris (5673 1899) and (5644 1867)
Kirby (5711 1824) and his band of Level 80 Pirates are nearby, salvaging the site.
For the purposes of this quest, there is nothing at the site. The quest is only in place to facilitate travel to the site and the Badge.
Badge location is 5676 1901
There is also a "Poisoned Spike" which is part of the Rare Melee Weapons Mark III Collection.

Community content is available under
CC-BY-SA
unless otherwise noted.