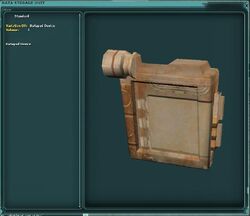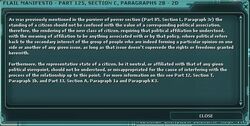 A Data Storage Unit is an item obtained by completing a loot kit or found in Chests or Coal Bins in the Endor Death Watch Bunker.
To complete this loot kit, among the other Non-junk dealer loot kits, you need to place a Datadisk into a Datapad (Empty). To create a Datadisk, place the following components into a Datadisk Repair Kit:
To create a Datapad (Empty), place the following components into a Datapad Housing:
When everything is assembled, you will receive a random Data Storage Unit. It is important to note that the items must be added into the Datadisk Repair Kit and Datapad Housing in the order listed above for the Datadisk and Datapad (Empty) to be completed.
When radialed in the player's inventory, the Data Storage Unit can be read to discover various stories and informations:
Credits: The Looted Word: A Guide to the various stories from in game items
Community content is available under
CC-BY-SA
unless otherwise noted.