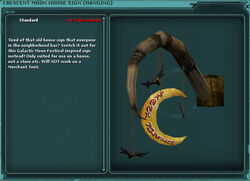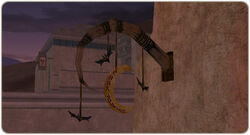 This item was purchaseable for 900 Galactic Moon Coins during the Galactic Moon Festival event.
Your house is distinguishable not just because it's called "Aponte's House" but because of the great new sign you have hanging out front!
To change the sign on your house to the new Crescent Moon House Sign, radial your new sign and select the change sign option. It will not work on a Merchant Tent. If you want your old sign back, use the terminal inside your building to replace it. The Crescent Moon House Sign that is being replaced will show up in your inventory.
Since Game Update 10, it is flagged as a Shared No Trade item.