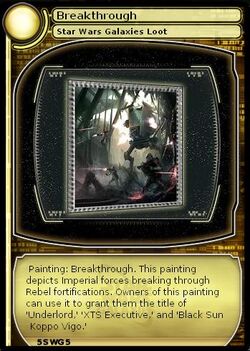 ‎
TCG Card Number:
5SWG5
Description: Painting: Breakthrough. This painting depicts Imperial forces breaking through Rebel fortifications. Owners of this painting can use it to grant them the title of 'Underlord', 'XTS Executive,' and 'Black Sun Koppo Vigo'.
When this TCG loot card is redeemed you receive a painting to display in a structure. It also grants the character new titles.
Community content is available under
CC-BY-SA
unless otherwise noted.