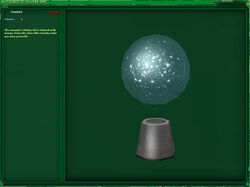 This Energetic Lifeday Orb is infused with energy. Using this item will certainly make you more powerful.
This lootable item was introduced as a special gift to players for Life Day on Dec. 22, 2005 and is nowadays no longer obtainable.
When a player uses this one-use No-Trade item, it grants their character 1 CL.