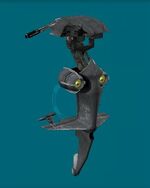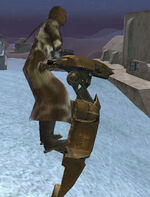 A more effective version of the Single Trooper Aerial Platform (STAP-1 or STAP) is an agile flying machine in the past used by the Trade Federation as a fighting and scouting vehicle.
This advanced version has been modified by a skilled engineer for maximum performance.
The original STAP was awarded during Life Day and can be deconstructed.
Performance
Edit
Source: Friday Feature - Getting Around In Star Wars Galaxies - Star Wars Galaxies website
Bio-linked to the player who deconstructed the basic STAP vehicle
Hit Points: from 11,000 to 15,000 (depends of the resource quality and crafting results)
Carries one person
Mounted Vehicle Protection: Ranged chance to receive Glancing Blow modified by 80%
Can be customized with a Vehicle Customization Kit
If disabled, can be restored at a Garage
How to Obtain
Edit
The original deed (basic version) needed for deconstruction purposes, is a quest reward upon completion of Saun Dann's quest to find a missing Life Day candy. With the removal of the Life Day content, Saun Dann is no longer available to start this quest.
Star Wars Lore
Edit
Community content is available under
CC-BY-SA
unless otherwise noted.