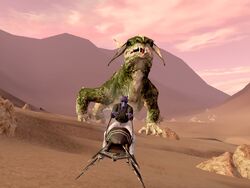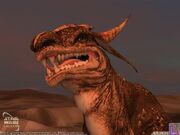 Location: Tatooine
One of the most fabled beasts of Tatooine, the Krayt Dragon is said to keep growing larger throughout its lifetime. The head of the dragon is heavily armored, and five large horns grow from its crown.
Like some reptiles, the krayt dragon ingests stones and boulders and holds them in a series of gizzards. The smoothest of these stones are known throughout the galaxy as Dragon Pearls, and are extremely valuable.
The thrill of the hunt is not the only thing that drives the brave members of a Krayt Dragon Hunt. The experience as well as the lucrative Pearls play a part in seducing a hunter into risking his life to kill such a beast. The pearls, as above mentioned, are the gullet stones of the Krayt, and are seldom found. When they are found, they are rated. Few are perfect, but some are close by. One thing about Krayt hunting is for sure; hunters skilled enough to succeed will earn prestige from their fellows.
Statistics
Edit
Adolescent Krayt Dragon
Edit
Note: Adolescent Krayt Dragons spawn near the Tusken Bunker, /way -1393 -403.
Canyon Krayt Dragon
Edit
Giant Canyon Krayt Dragon
Edit
Grand Krayt Dragon
Edit
Juvenile Canyon Krayt Dragon
Edit
Krayt Dragon Ancient
Edit
If you defeat a krayt dragon ancient you will receive a badge.
Star Wars Lore
Edit
Community content is available under
CC-BY-SA
unless otherwise noted.